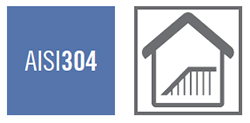 AISI 304 Stainless Steel
AISI 304 is a stainless steel alloy composed by a Cr content between 18% and 20% and a Ni one between 8% and 11%. It is the most utilized stainless steel in the world, and represents more than 50% of the total consumption it is also perfect for interiors.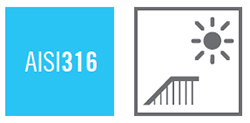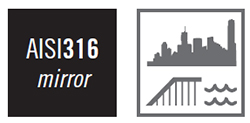 AISI 316 Stainless Steel
AISI 306 is a stainless steel alloy composed by a Cr content between 16% and 18%, a Ni one between 11% and 14% and a Mo one between 2% and 3%. Molybdenum percentage guarantees a better corrosion resistance, so it is the perfect material for exteriors. In case of strong external locations, mirror finish AISI 316 is recommended, because it proves to be really resistant in terms of atmospheric agents, pollution and seaside chlorides.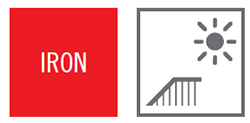 Galvanized Iron
It is Fe360B galvanized iron. Unlike stainless steel, iron is cheaper but more subject to corrosion. To solve this problem, it is hot dip galvanized. It is a cheap answer, perfect for external locations.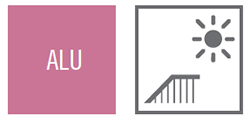 Aluminium
Aluminium used in IAM Design items is anodized and brushed. The anodization chemical procedure is able to convert a material surface, making it more resistant and longer lasting in terms of oxidation. Brushing is a finish that gives the extrusion a specific scratching, as the one of the glazed stainless steel. It is a cheap solution, suitable both for interiors and exteriors.
Satin finish
IAM Design items SATIN finish is mechanically achieved thanks to 400 grained abrasive strips that give the steel a polished effect.


Mirror
MIRROR finish is achieved mechanically thanks to specific abrasive brushes that polish the surface and increase corrosion resistance.

Electropolishing
This finish is achieved through an electrochemical procedure that removes irregularities on the items surface, making it smooth and increasing its reflection. Aesthetically, mirror reflection will not be equal to the one achievable with mechanical polishing procedure. Practically, smoother surface increases corrosion resistance, making the possibility of contamination particles retention more difficult. Moreover, it is easier to clean.
Colours
All Glass U profiles and IAM Design stainless steel products can be Powder coated. Powder coating is a metallic surfaces covering procedure done with an organic film; that is created both for decorative purposes and corrosion and strong agents protection. If stainless steel items are placed outside, it is recommended to have them galvanized before painting. In addition to all RAL colours, several finishes are available on demand.
Texture finishings

Upon request, the profile can be supplied with a special primer, which can be colored with any mural painting.
Handrails
IAM Design offers a wide variety of stainless steel handrails, with mechanical hooks, finishing tops, pillars and angle brackets also coordinated with the special colorations of the profiles. Combination with wood handrails, in different kinds and colours, is also available. The wood we employ comes from forests that are managed along unbending environmental, social and economic standards.